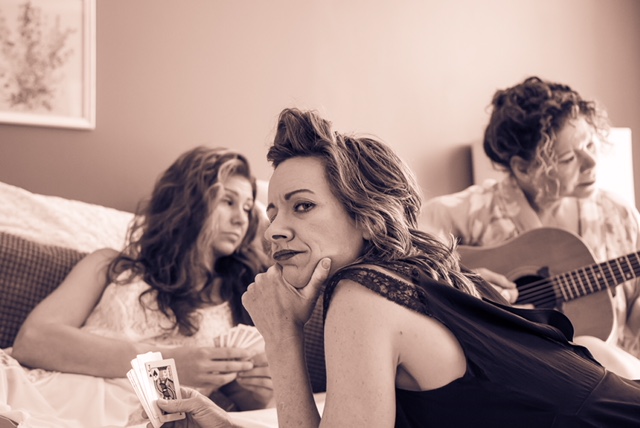 A Day Late and A Dollar Short
June 8 and 9, 2019
BACK BY POPULAR DEMAND!!!! After 2 sold-out shows in January, we are back! Meet us at the cathouse for a night of raucous entertainment. MC Sweet Tea and The New Quorum present: "A Day Late and A Dollar Short," an immersive and deconstructed musical set in a Storyville brothel. Written and Directed by MC Sweet Tea with Sarah Inman and the entire cast.
IMPROVISATION: New Orleans' Gift to the Modern World
The New Quorum along with partners The Fertel Foundation, The New Orleans Jazz Museum, NOCCA and The New Orleans Jazz & Heritage Foundation presented IMPROVISATION: NEW ORLEANS' GIFT TO THE MODERN WORLD, a 3-day dynamic conference bringing together internationally known performers, artists and scholars in an exploration of improvisation across the arts – cuisine, music, literature, visual arts, politics and oral history.
Zarouhie Abdalian | Courtney Bryan | Ben Burkett Mel Chin | Theo Eliezer | Randy Fertel | Ham Fish Paul Goussot | Chris Kaminstein | Richard McCarthy | Stephen Nachmanovitch | Davia Nelson Jenna Sherry | Gwen Thompkins | Rob Wallace | Alice Waters | Matt Wuerker
Singer/songwriter/guitar player Xavier Cardriche is a natural-born poet and storyteller. The coupling of his Alt-Country/Folk sound with visually detailed stories is accomplished with the spirit of early folk artists such as Donovan, Richie Havens, and Bill Withers. Come catch his soulful crooning and creative folk stylings at the close of his New Quorum residency. As alway, nourishing food served and cash bar.
SUNDAY, JUNE 10 @ 630pm
AT THE SIDEBAR, 611 S White Street
JUNE 5 - James Brandon Lewis-sax; Jesse Morrow-bass; Simon Lott-drums; Jonathan Freilich-guitar
JUNE 6 - James Brandon Lewis-sax; Nathan Lambertson-bass; Hamid Drake-percussion/drums; Jonathan Freilich-guitar
AT THE NEW QUORUM, 2435 Esplanade Avenue
JUNE 7 @ 730pm - A Gathering of Improvisition with the James Brandon Lewis, Jeff Albert, Jonathan Freilich, and Guests with GALLOP Trio (Alex de Grassi, Hamid Drake, Don Paul)

TEN FREEDOM SUMMERS performed by Wadada Leo Smith's Golden Quartet and RedKoral String Quartet with video images by Jesse Gilbert on Loyola University on October 13, 2018
Thanks to a generous grant from Chamber Music America and the Doris Duke Charitable Foundation, the New Orleans performance represented Part 3 in a 3-part Southern Tour of this Pulitzer Prize nominated work. Part 2 in Houston on Oct. 13 and Part 2 in Austin, TX on Oct. 12. The performance of Wadada Leo Smith's Golden Quartet, presented in collaboration with Epistrophy Arts, Nameless Sound and the New Quorum, was supported by Presenter Consortium for Jazz, a program of Chamber Music America funded through the generosity of the Doris Duke Charitable Foundation
Nikki Glaspie during her Master Class at The New Quorum on March 4, 2017
ABOUT NIKKI
Sorceress. Alchemist. Beat Conductor. Funk Philosopher. Seneshal of Style. Purveyor of Pocket. Child of God. Agent of Love.
Nikki Glaspie is among the premier drummers in music today. As a founding member of The Nth Power she's blazing a path of light, and rolling waves of love in her wake. A student of J Dilla, James Brown, Led Zepplin, Earth, Wind & Fire, Gospel traditions and all points between, Nikki Glaspie has toured the world as the drummer of Beyonce's backing band SUGA MAMA, trotting the globe behind the likes of Maceo Parker, Ivan Neville's Dumpstaphunk, Martin Luther, and more. Glaspie studied at the prestigious Berklee College of Music in Boston, and credits Professor Angelamia Bachemin as her single greatest teacher/influence. For the better part of two decades, Nikki has been in-demand, with a who's who of the jazz/funk scene. Nikki Glaspie is already a living legend, well before her fortieth birthday. Remarkably, it feels as though she has merely just begun!
Instigation Festival in New Orleans!!!!
The now annual Instigation Festival featured more than 20 Improvising Musicians and Dancers from New Orleans and Chicago
February 8th at the New Quorum
Mixed groupings with:
Anton Hatwich (bass), Felicia Holman (dance), Jeremy Guyton (dance), Katinka Kleijn (cello), Lia Kohl (cello), Damon Locks (voice, electronics) Steve Marquette (guitar), Meida McNeal (dance), Jasmine Mendoza (dance), Avreeayl Ra (drums), Cristal Sabbagh (dance), Mars Williams (reeds
Music Workshop/Performance with Saxophonist Mars Williams, bassist Kent Kessler and drummer Paal Nilssen-Love - BONESHAKER. Sit in on an informal workshop before heading over to Siberia for their 10pm show with Death Posture and DJ Weird Steve.
Williams, who has played with an impossibly broad range of musicians, from Hal Russell to the Psychedelic Furs joins two prolific powerhouse musicians - carrying among them a Grammy nomination and decades of experience with the top ensembles in the world
january 2016 EVENTS/SALONS
NQ Resident Wadada Leo Smith is generously conducting workshops with musicians followed by informal "performances" for the public. Visiting guest musicians change nightly.

TUESDAY, JANUARY 5 with NQ Resident, composer and Flutist Nicole Mitchell
THURSDAY, JANUARY 7 with NQ Resident, composer and Flutist Nicole Mitchell
MONDAY, JANUARY 11
TUESDAY, JANUARY 12

House Performances Open to the Public with Wadada Leo Smith and Special Guests
Time: 8pm Performance
Location: 2435 Esplanade Avenue
Cost: Admission is Free

WEDNESDAY, JANUARY 13
"Looking Back, Moving Forward: Music and Advancing Cultural Equity"
Panel followed by a performance by Wadada Leo Smith
Time: 6:00 PM - 8:00 PM
Location: Woldenberg Art Center, Freeman Auditorium

Tulane's New Orleans Center for the Gulf South and The New Quourm present a panel on music as an agent in the continuing Civil Rights Movement and advancing cultural equity. The discussion is led by Gianna Chachere, Founder of The New Quorum with Wall Street Journal Jazz Critic and writer Larry Blumenfeld, avant-garde jazz pioneer Wadada Leo Smith, and long time Civil rights pioneer/activist Roxy Wright.

Cost: Admission is Free

SUNDAY JANUARY 17
Texas-based composer/performer Lisa E. Harris presents Children of the Lost (2015) an opera film about youth and displacement during a time of gentrification in Third Ward, Texas. Recognized by the Huffington Post as "One of Fourteen Artists that are Transforming Opera," Ms. Harris will accompany the film with a live performance. This is the sequel to Harris's 2011 opera film, "Cry of The Third Eye."
http://lisaeharris.tumblr.com/

Time: 8pm
Location: 2435 Esplanade Avenue
Cost: Admission is Free

WEDNESDAY, JANUARY 20
Improvised Music by Mars Williams, Helen Gillet, Jeff Albert, and Dave Cappello
Helen Gillet was invited by Ken Vandermark to play at the 2015 OkkaFest Festival in Milwaukee, WI and played with saxophonist Mars Williams, trombonist Johannes Bauer, and percussionist Tim Daisy. It was such a successful combination that Mars and Helen decided to revisit that instrumental grouping here in New Orleans with trombonist Jeff Albert and percussionist Dave Cappello.

Time: 8pm
Location: 2435 Esplanade Avenue
Cost: $10 Donation

SUNDAY, JANUARY 24
NQ Resident Damon Locks presents Sounds Like Now, a sound piece originally presented in conjunction with the exhibition "MAKING NIGGERS: Demonizing and Distorting Blackness Through Racist Postcards and Images." Sounds Like Now utilizes records, samples, instruments, and voice in order to hear the past in present tense.

Time: 8pm
Location: 2435 Esplanade Avenue
Cost: Admission is Free